More and more people are choosing Ibiza as a destination for their wellness vacations. The white island exudes magic on all four sides and offers both tourists and residents the chance to escape from the routine and the hectic pace of life of the XXI century.
From Ibiza Health & Beauty we invite you to take your eyes off the clock and stop for a moment to dream about your next getaway. You deserve it, and our partners will make it happen!
We welcome you to Ibiza, we welcome you to Balearic wellness!
Agrotourism in Ibiza: the essence of our homeland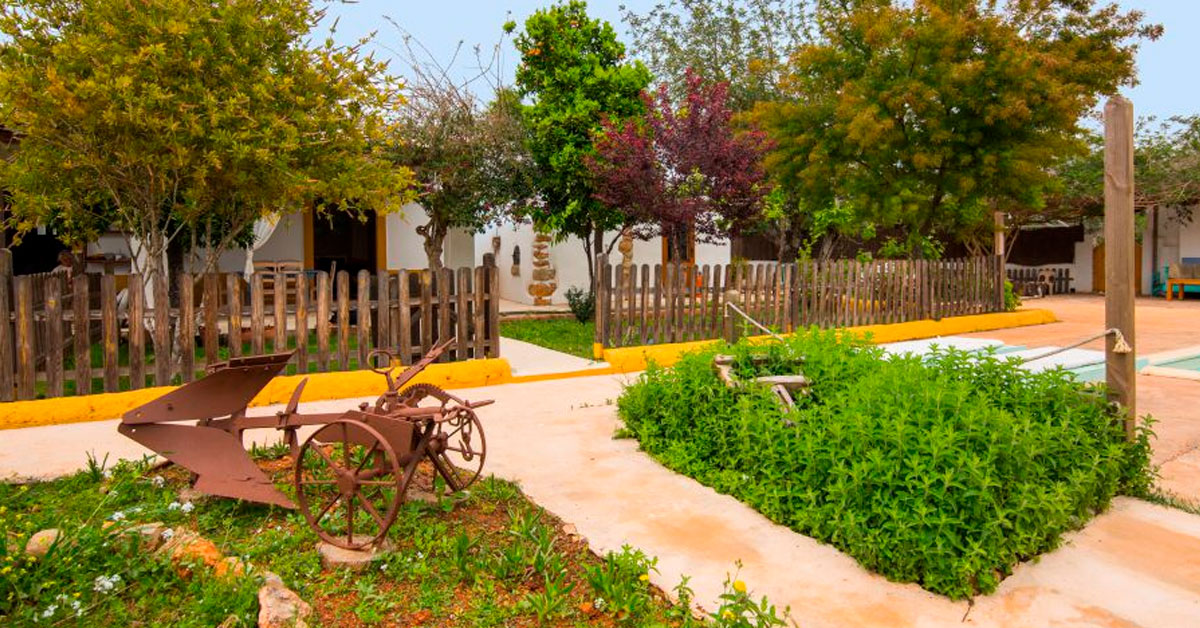 Connecting with the rural environment of the island is probably the best way to discover, live and enjoy the Mediterranean lifestyle. La Dolce Vita, as someone would say; but in full color, not in black and white.
The essence of Ibiza is the red of its clay soils, the green of its pine and juniper forests, the white of its autarchic architecture and the blue that bathes its horizon.
We can assure without fear of being wrong that the best way to travel through all this chromatic range of sensations is through an agritourism in Ibiza.
It is also the best way to honor the roots of this, our Balearic paradise. As they do in Casa Morna Ibiza Agroturismo Consciente, a magical accommodation in a dream location.
In the heart of the island, from this agrotourism you can start your wellness getaway with the certainty of experiencing the purest and most unspoiled essence of Ibiza, even in the busiest tourist months.
All suites have their own porch and terrace and are decorated in a cozy and rustic style. Simplicity, comfort and privacy to make you feel at home (or even better).
At Casa Morna Ibiza Agroturismo Consciente they have the conviction that today it is more important than ever to reconnect with the Earth and give us that space where we can stop, breathe and nourish the Soul.
That is why in their traditional farm you will also find, away from the main accommodation area, a wooden room in the shape of a hexagon, open to contemplate the forest and group activities.
There is also a stone path for meditative exercises, a swimming pool, gardens and a massage room. In short, the perfect refuge for lovers of wellness and rural accommodation.
You can contact Casa Morna Ibiza Agroturismo Consciente by phone (971 326 998) or by email (Diese E-Mail-Adresse ist vor Spambots geschützt! Zur Anzeige muss JavaScript eingeschaltet sein!).
Spa in Ibiza: revitalize body, mind and soul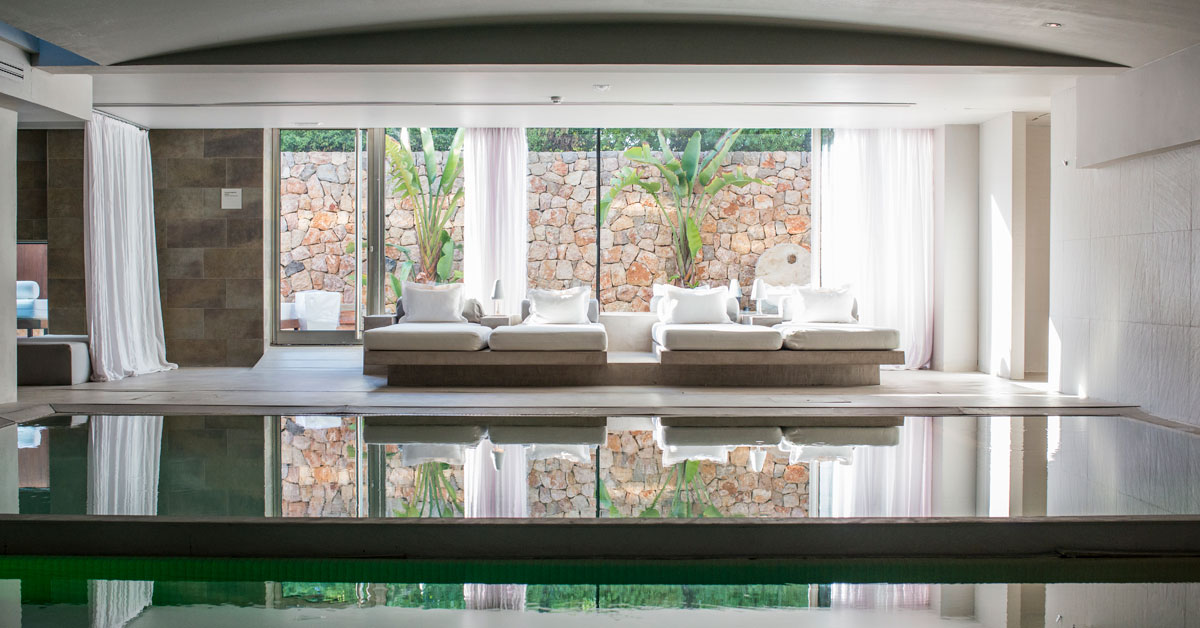 Beyond the obvious benefits of a wellness getaway in Ibiza, don't forget how positive it is for your health to restore the balance between your body, mind and soul.
The island has nothing to envy to any other destination famous for its wellness options. In fact, finding all kinds of health and beauty treatments is very easy in Ibiza.
Needless to say, the ideal place to put in order every cell of your body and every thought in your head are the facilities of any of the spas in Ibiza that you can find on our website.
And as an example, a button: the center Revival Spa by Clarins located in the hotel Aguas de Ibiza puts at your disposal more than 1500 m² of pure relaxation and wellness.
An impressive luxury spa in Ibiza where each treatment (facial, skin, for men or women, body, scrubs, massages, ...) has been designed exclusively for you.
So if you feel the need to stimulate your physical, mental and spiritual harmony, the Revival Spa by Clarins center at the Hotel Aguas de Ibiza may be the refuge you were looking for...
As it could not be otherwise in this oasis of relaxation and tranquility you will have access to its water area, Turkish bath, sauna, ... but also exclusive services such as its Hair and Nails Salon, Fitness Club or personalized nutrition plans.
To open the door to the Mediterranean spirit just call 971 319 991 or send an email to Diese E-Mail-Adresse ist vor Spambots geschützt! Zur Anzeige muss JavaScript eingeschaltet sein!.
Yoga in Ibiza: much more than a passing trend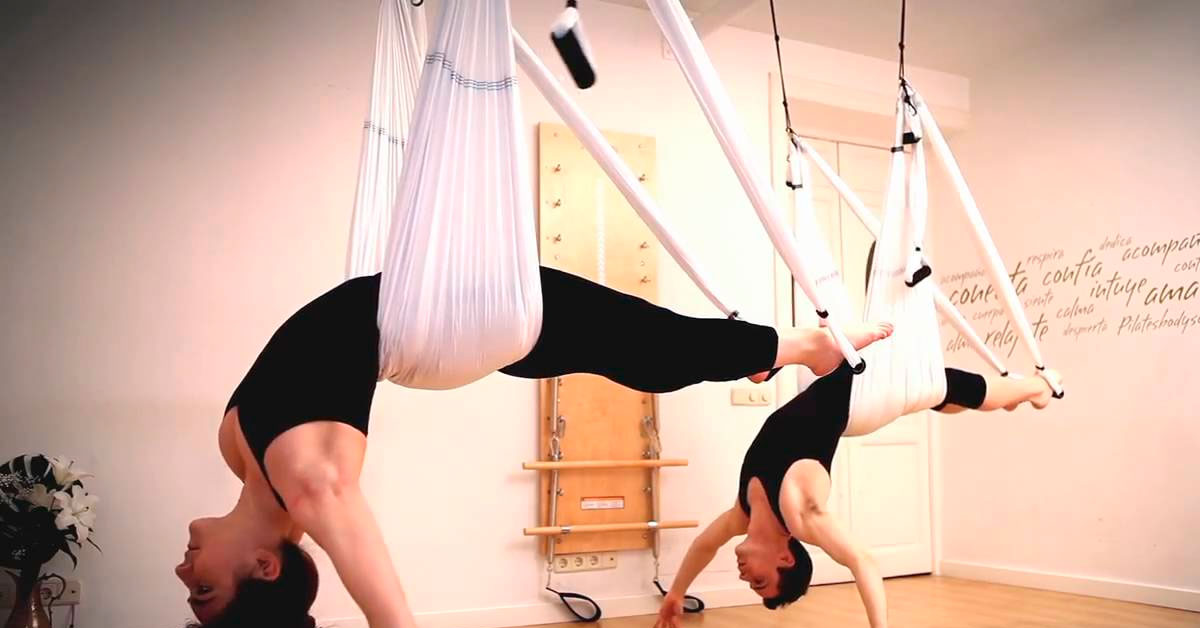 One of the most popular self-care therapies these days is yoga. In Ibiza there are more and more centers and professionals who already offer some of its variants (hatha, vinyasa, kundalini, ...) due to the obvious benefits it has for our well-being.
Among them, it is worth mentioning the elimination of muscular tensions, the control of the mind and the recovery of inner peace. For reasons like this the practice of yoga is considered a therapy not only physical, but also energetic, mental and emotional.
To talk about Yoga in Ibiza is to talk about one of the best destinations for learning, progressing and enjoying this discipline. To talk about Yoga in Ibiza is, in short, to talk about reconnecting with our inner self in capital letters.
If you do not quite believe it, you just have to take a look at the more than 30 weekly classes that are taught in the White Yoga Ibiza studio, where you can even attend with the little ones at home.
In addition to the practice of various styles, this yoga center in Ibiza also organizes workshops on Emotional Integration, complementary therapies such as reiki or shiatsu and training events (both offline and online).
You can find out more about these and many other activities at White Yoga Ibiza by calling 971 052 854 or sending an email to Diese E-Mail-Adresse ist vor Spambots geschützt! Zur Anzeige muss JavaScript eingeschaltet sein!.
More reasons to choose Ibiza as your wellness destination
At Ibiza Health & Beauty we are certain that if you dive into our directory you will find all the centers and professionals you need for your next wellness vacation to our island.
But we also invite you to follow us on our social networks so you don't miss any news. We look forward to welcoming you soon to see for yourself why Ibiza is our Mediterranean paradise of health, beauty and wellness.
Main Photo: Adobe Stock